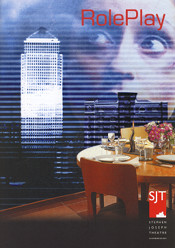 To navigate, use the links in the bar above or in the right hand column.


World Premiere:
4 September 2001

Venue:
Stephen Joseph Theatre, Scarborough

London Premiere:
7 September 2002

Venue:
Duchess Theatre, London

New York Premiere:
N/A

Venue:
N/A


Play Number:
60

Published:
Samuel French
,
Faber
Short Synopsis:
RolePlay
is part of the
Damsels In Distress
trilogy: a feisty young woman literally drops in on an engaged couple, whose parents are about to meet for the first time at a dinner party. A clash of cultures and families follows.


Availability
Amateur:
Apply to
Concord Theatricals
.

Professional:
Apply to
Casarotto Ramsay
.


RolePlay quote

"Listen, I escaped. It wasn't your fault. You'd checked on me regular. You'd kept my door locked. What more could you have done? Nothing. You didn't know the silly bitch was going to climb out of a sixth floor window, did you? It wasn't your fault."
All research and original material in the RolePlay section of Alan Ayckbourn's Official Website is by Simon Murgatroyd M.A. and copyright of Haydonning Ltd. All other material is copyright of the named copyright holder. Please do not reproduce any material without permission of the copyright holder. For enquiries, email: archive@alanayckbourn.net